Where We Went: Constitution Hill, Lanesborough MA
When We Went: Late February
Difficulty (Boots 1 – 10): 6 Kid's Sized Boots (I'll explain.)
Trail Length: 1.7 miles Constitution Hill Trail
How Long it Took Us: 3 hours
Overview : In the current political climate we are constantly under a barrage of doublespeak and misinformation, sowing deep seeds of mistrust and confusion on all sides. Oftentimes it is the constants we cling to for their perpetual reliability in turbulent times – anchors like our Federal Constitution – as a means of safeguarding individual rights and beliefs. But it's interesting to note that these words, in which we the people hold so dear, were once the very source of national unrest, uncertainty and debate prior to it's ratification. In fact, if not for Jonathan Smith Jr., a Lanesborough farmer with a knack for oration, Massachusetts may not have sanctioned at all and our rights as we know them may never have been the same.
In January 1788, Smith traveled to the Massachusetts Constitutional Convention in Boston as the Lanesborough delegate. Standing tall in Faneuil Hall, Smith began, "I am a plain man and get my living by the plough…I am not used to speak in public, but I beg our leave to say a few words to my brother plough-joggers in this house….." "he knew "the worth of good government by the want of it." There was "a time to sow and a time to reap," and if the Constitution were not ratified now, "we shall never have another opportunity."
It was his grass-roots speech that swung the independent colony of Massachusetts to adopt the Federal Constitution. The majority of the populace were farmers and the collective mistrust of politicians, lawyers and other elites ran deep. (Shay's Rebellion of 1786-87 was still fresh in the minds of Western MA). But the common sense of this common man from the Commonwealth struck a chord, echoing the voice of it's people and uniting universal interests of reason and the common good. After 19 alterations, Massachusetts ratified the Constitution on February 6, 1788 (despite Berkshire County's 16 – 6 vote against it).
Virginia and New York had patiently waited for Massachusetts vote before casting their own and would ratify of June and July respectively, of that year.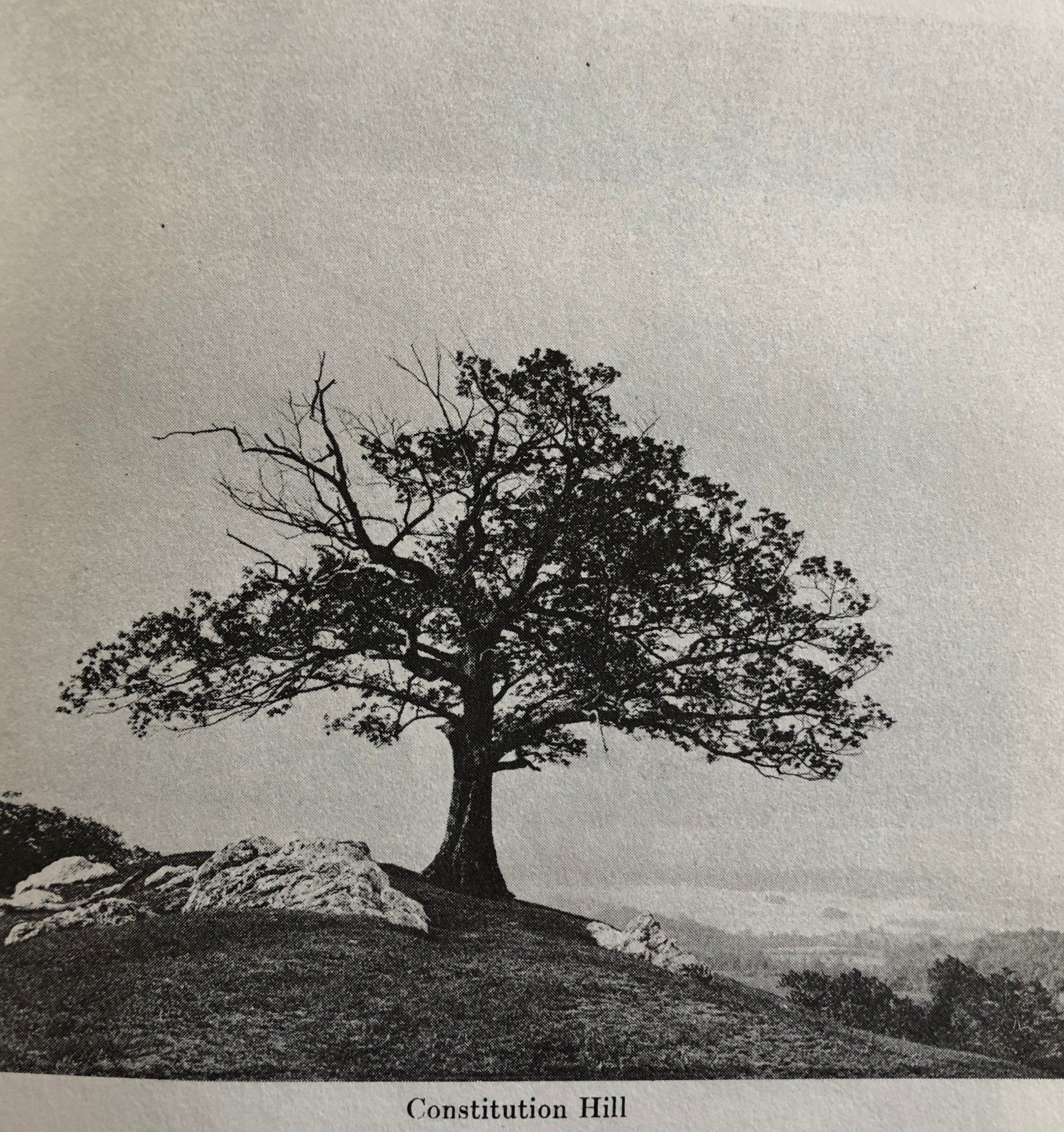 How did Smith mark this tight victory of 187-168 votes? He arranged for a bonfire. There on the highest hill in Lanesborough, 1,680 feet up on former Bald-Headed Hill, a blaze was lit to notify the villagers of the Constitution's successful ratification.
Renamed Constitution Hill shortly thereafter, the lone red oak that graced it's summit was struck by lightning in 1903.
It would survive until 1920. The oak had been used as a backlog for innumerable picnic fires, burning a hollow, charred fireplace within its trunk. Weakened, a storm would soon blow it down.
The next year, two twin oaks were planted in it's place and a plaque was erected to honor the oak, as well as the Lanesborough veterans that served in WWI.
The 303-acre property is currently owned and managed by Berkshire Natural Resources Council. The entire trail is 2.5 miles and if not for our own series of unfortunate events on this fateful day in February, makes for a great hike. 
What We Dug : We all know what yellow snow means but black snow is a sight most of us aren't familiar with. Imagine our surprise when we reached the top of Constitution Hill and found dimples of dark dotting all hillside, like someone had peppered the snow with an overzealous hand.
On a sunny winter's day you may notice these tiny, dark specks bouncing about on the snow. While they are the size of fleas, don't worry – they pose no threat to you or your pets!
These hexapods known as "springtails" aren't really fleas at all, but nicknamed as such for their similar bouncy behavior.
,Snow fleas are beneficial in many ways. They decompose organic matter, making them important for creation of healthy topsoil.
https://video.wixstatic.com/video/3087f9_48b25549c4d84900ad1e29ac9d567210/1080p/mp4/file.mp4
Springtails breathe through their skin and are vulnerable to drying out. They hop around to find moist, sheltered places as well as things to eat. Unlike true fleas that use their toes to jump, snow fleas either crawl along or use their tail-like appendages to bounce.
Not one of us had ever seen snow fleas before so this was a cool first for us all! It was wild to watch them popping all over the place, en masse.
During warmer months snow fleas and other springtails are even more active than in winter, although without the stark white of the snow they're harder to see. Springtails can be found throughout the forest canopy and on water, where the surface tension keeps them from sinking. Take a flashlight out to a pond in June and watch the springtails bopping about on top of the water.
What We Could Do Without : Guys. Let me tell you…we've been doing this for some time now and while it's not uncommon for the kids to get gripe-y and ready to quit mid-hike, we can usually redirect them or keep 'em moving with a quick snack.
This was not one of those times.
Being unfamiliar with this hike and a series of mistakes led to a knackering 3-hours in the woods.
It had recently snowed, covering the slick parking lot below and one of our littles face-planted on the ice before we even hit the trail, bloodying her chin. The fresh snow would soon plague us again. Perhaps we should've taken the wound as a sign and packed it in – let's call that Mistake #1.
We continued uphill to the upper parking lot kiosk, where the blue marked loop trail begins and you have the option to take a right or left from there. We went left…or as we call it – Mistake #2.
GO RIGHT. The right side of the trail heads up to a power line crossing, and open-sky views east and west. Had we taken a right, we would have climbed steeper conditions for a short period right from the start. Instead, we sluggishly plodded through unpacked snow for over a mile before we can began our climb to the top of the hill.
It was strenuous for the adults and a killer for the 8 little legs trying to keep up.
Mistake #3 occurred the moment I chose this hike but neglected to check the total gain. Total gain or elevation gain is the sum of all the uphill segments along a particular route. At 400-feet total gain, Constitution Hill is pretty moderate. Yet coupled with the lack of snow pack and route we chose, the kids (and adults) doggedly trudged to the top. We did make it and our perseverance made reaching the top all the more satisfying. Each time we hike we learn something and this was a crash course in our limits and patience.
Here's a few things we learned:
Do your research. Don't just check the current days weather, check the previous few days. Have the last 48 hours been rainy? Dress for mud. Know the elevation gain. Maybe don't bring four undersized children trudging through hip deep snow and expect a good time. 
Keep Your Eyes Peeled For : Snow Fleas, Tree Carvings, Slag Glass, Old Stone Wall, Josh Billings Homestead, Deer, White & Yellow Birch, Dutchman's Breeches, Constitution Oak, Quartz Boulders, Views of Mt. Greylock & Farnham Hill, Red Oak, Eastern Hemlock, Hop Hornbeam, Partridgeberry
Must Know Before You Go's : Two Important Notes!
1. Timber harvesting is ongoing through 2021. Logging machinery is present on the lower (west) trail and near the parking area. Equipment operators will be cautious of hikers. Please park in the designated areas. Trails are open, but PLEASE USE CAUTION.
2. During spring thaw, road conditions at the end of Bridge Street can deteriorate, making the trailhead at Constitution Hill difficult/impossible to reach. If you encounter poor road conditions (i.e. deep mud, ruts, erosion) on Bridge Street, please consider turning around and visiting another time. Please respect any "Road Closed" signs. Consider the trailhead closed if only accessible via the closed road; parking on the side of the road is not an alternative.
Horseback Riding, Skiing, Snow Shoeing, Mountain Biking Allowed. Hunting permitted subject to MA laws. Leashed Dogs OK. No Motorized Vehicles.
Directions : From Pittsfield: Take Route 7 north into Lanesborough. Just past the Lanesborough Police Station turn left onto Bridge Street. If you pass The Old Forge you have just missed it. Follow Bridge Street to the end, past the BNRC sign, to the large parking area with a kiosk. The trailhead is about 0.8 miles from Main Street.
GPS: 42.5238, -73.2423 (trailhead parking)
Scroll Through For More Pictures of Our Constitution Hill Adventure!
Website :
https://www.bnrc.org/wp-content/uploads/2018/11/Regional_Lanesborough.jpg
https://www.bnrc.org/wp-content/uploads/2019/06/Constitution_Hill_trailmap.pdf
https://www.bnrc.org/wp-content/uploads/2018/11/Constitution_Hill_Topo.jpg
Resources :
https://northernwoodlands.org/outside_story/article/springtails-tiggers?gclid=Cj0KCQjwu6fzBRC6ARIsAJUwa2S55EmIWnpglxT-KOCp_LfqTd31ws-O3iKBu8NXhWtF1MqBAGLWaXUaAsPSEALw_wcB
https://www.hmdb.org/m.asp?m=85175
https://herb.ashp.cuny.edu/items/show/1279
https://archive.org/stream/historyoftownofl01palm/historyoftownofl01palm_djvu.txt
Additional Photos by Kira Smith