Where We Went : Duncan Brook, Dalton MA
 When We Went : 1st Week of April
Difficulty (Boots 1 – 10) : 2.5 Boots (based on lack of trails) 
Trail Length : No Marked Trails
 How Long it Took Us : 2 Hours
Overview : In 1957, the town of Dalton proposed a public swimming pool on Duncan Brook Reservoir, a 7.6 acre tract of land owned by J. Edgar Bardin, containing a brook and 75-foot dam previously built to provide water to Flintstone Farm.
Two years and $17,000 later, the project spearheaded by Townsman John Broderick was complete. The new public pool opened for swimmer's on June 27, 1959. The town of Dalton's first outdoor swimming area since Weston Beach was abandoned in the 1930's, Duncan Brook would become a very popular local spot.
During the summer months, supervised swimming was available after 1pm on weekdays and 10am on Sunday, closing down at 8pm. Boasting a sandy shore, a slide, diving board and ,,bathhouse facilities, it was the perfect spot to cool off, and you'd cool off in a hurry! Notoriously chilly water led to the installation of pipes that siphoned the cold water from the bottom of the pond, diverted it over the spillway, and left the sun-warmed surface water much more suitable for swimming.
Popularity would lead the Hinsdale-Dalton Bus Line to run a daily bus special to Duncan Brook Beach. For 10 cents you could catch the 1 o'clock bus at the corner of Park Ave & High Street, swim all day long and hitch the 4 o'clock bus back, right in time for dinner.
,
The beach at Duncan Brook played host to numerous swimming competitions, fishing derbies, picnics, and even the occasional doll show. (These were a big thing in Dalton, look it up.)
At it's peak, Duncan Brook attracted 200-250 people daily for swimming and other activities. At the annual picnic at the close of the 1962 season, there were 300 attendees!
Then in 1967, Dalton unveiled the newest swimming locale at the American Legion and Duncan Brook took a back seat. Although still open to swim at your own risk, Duncan Brook became primarily used for fishing derbies and as a day camp for the Camp Fire Girls of Na-Wak-Wa. In 1968, Duncan Brook would cease to be the swimming hot spot it had once been.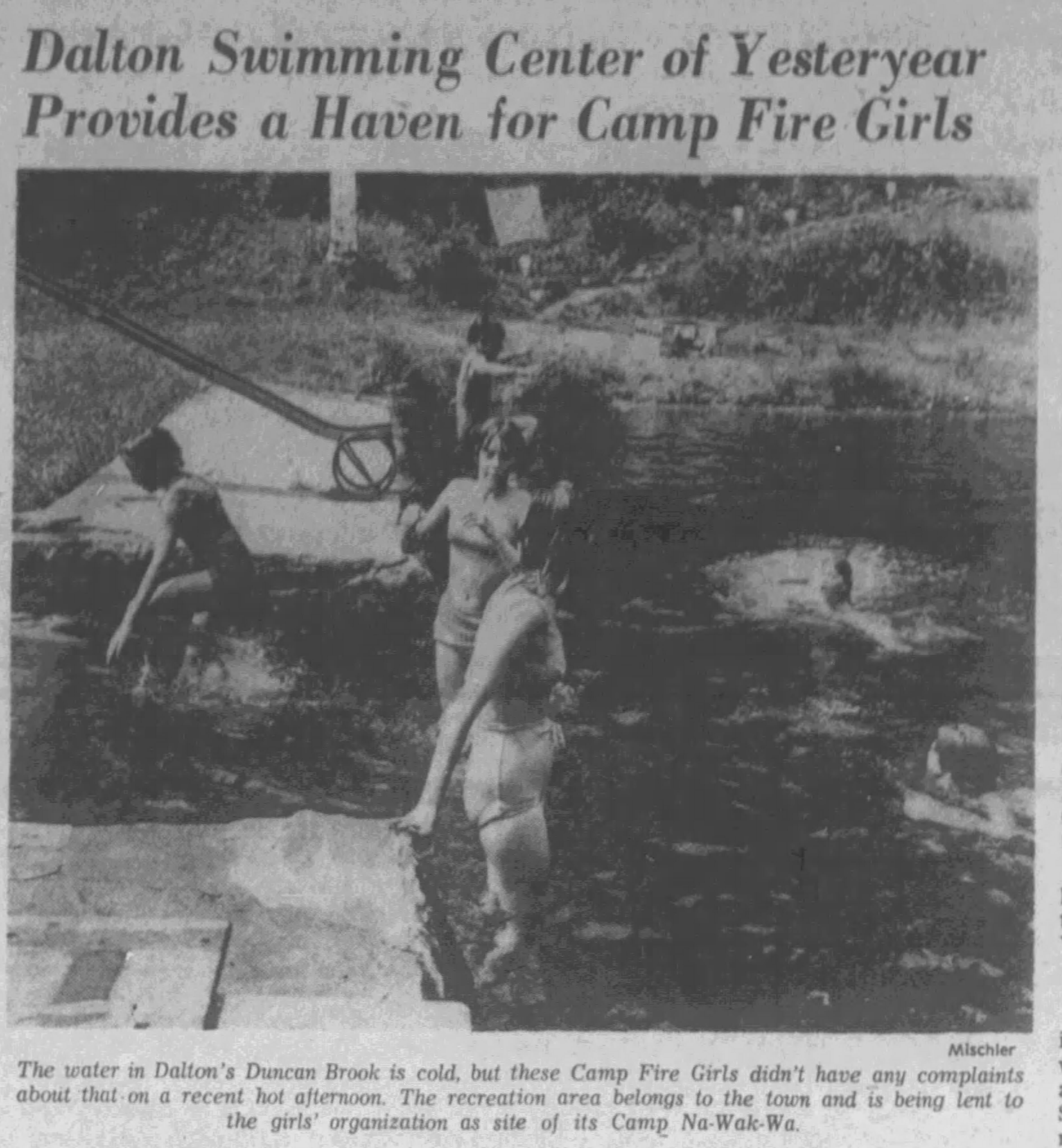 Threatened to be sold at public auction in the 1980's, it was only because of passionate townspeople that it was spared from the auction block. But it would fall into further disuse and disrepair. J. Edgar Bardin offered to buy back the property while still allowing for public use, but that never came to pass.
In 1983, a group of Boy Scouts and their leaders passed a frigid couple of nights at Duncan Brook. The camping trip was planned as a way to hone their Winter survival skills and boy, were they tested. Temperatures dropped to 6-below zero overnight! Despite the cold, the Scouts kept themselves busy and their spirits high.
Maybe it was this triumph of character that prompted the town's subsequent sale of the property to the Boy Scouts in 1984 for the price of $1.
Currently, the property is still owned by the Boy Scouts, but has not been in regular use or maintained in many years. Located off of Route 9, near the former Flintstone Farm, the old swimming pond now resembles a marsh after heavy silt deposits flooded the area from a nearby gravel operation. The bathhouse still stands but bares the damage of frequent vandalisms. There are no trails, but the wooded area surrounding Duncan Brook is easily accessible and is a straightforward tract to tramp around in.
What We Dug : Garter snakes were out in force, enjoying the mild temperatures and the warmth of the sun. Not your typical harbinger of spring, Garter snakes emerge from hibernation in order to mate in March or April.
A common sight in New England, it is easily recognizable by its pattern of yellow stripes against black or brown scales. The pattern can sometimes vary, but it usually consists of a narrow stripe down the middle of the back and a broad stripe on each side.
Garter snakes can be found in many different habitats, but never far away from some form of water, and the marshy slopes at Duncan Brook make for ideal conditions.
Did you know that garter snakes are ovoviviparous? That means they give birth to live young! Most snakes are oviparous, meaning they lay eggs in a nest. 
Since being homebound during Covid-19, we have been seizing any opportunity to turn our day-to-day into teachable moments. When we venture outdoors we're able to capitalize on the world that surrounds us. Duncan Brook offered countless possibilities for us to learn more about nature and wildlife. Snakes, polypores, animal scat; we even stumbled upon a deer's skull! Or maybe it's a sheep? We spent some time poking at it with a stick, trying to
What We Could Do Without : ,Another local property with so much untapped potential. It's always bittersweet to walk through a place and picture what once was and imagine what could be. Oh to live a day in the '60s, hopping the bus to the swimming hole on a sweltering summer afternoon…
My mental pendulum swings between the past and the present.
What's next? Thoughts drift to the future and how to preserve the area for the environment, the wildlife, and the community… An outdoor classroom to educate the next generation of nature stewards and caretakers? A woodland haven for open-air hiking, camping, and exploration? Restore it to the golden days of beachside yore? The only thing I know, is that it's the reminiscing that is the easy part – it's in the "What's next?," that lies the real trouble.
Keep Your Eyes Peeled For : Garter Snake, Abandoned Bathhouse, Remnants of a Diving Board, Pond, and Dam, Striped Maple, Ash, Cherry, Poplar, White Pine, Polypore Fungi, Deer, Rabbit
Must Know Before You Go's : There are no marked trails. This property is owned by the Boy Scouts of America and is not maintained. Please use at your own risk. No facilities. No maintained trails. No hunting.
Directions : From Dalton center, travel North on Route 9 (North Street). Turn left onto Chalet Road (dirt road also called Duncan Brook Road). If you pass the turn for Wahconah Falls State Park, you have gone too far and missed the turn. Drive to the end of Chalet Road. You can park your car at the pull off area on your right and walk towards the green shelter.
Website : None
Resources : https://www.hitchcockcenter.org/earth-matters/garter-snakes-emerge-for-their-grand-coming-out-party-in-march-and-april/
https://kids.kiddle.co/Garter_snake
https://srelherp.uga.edu/snakes/thasir.htm
http://www.biokids.umich.edu/critters/Thamnophis_sirtalis/
Scroll through for more pictures of our Duncan Brook adventure!