Where We Went : Glendale Falls, Middlefield MA
When We Went : Mid-March
Difficulty (Boots 1 – 10) : 3 Boots
Trail Length : 1/4 Mile to the base of the Falls
How Long it Took Us : 1.5 Hours
Overview : For a town with a population of less than 600, Middlefield sure has a lot of history.
The first soldier to ever receive a Purple Heart Medal of honor, Elijah Churchill, a Revolutionary War vet, lived and is buried here.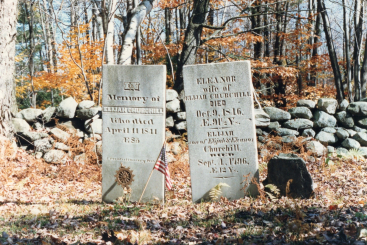 Martha Stewart laid stakes on Clark Wright Road, humbly purchasing an ,1800's schoolhouse on 50 acres. Living in this modest homestead without a bathroom or running water from 1966 to mid-1980's, Martha credits this adventure as the catalyst behind her foray into serious DIY like plumbing, electrical work and contracting as well as some of the happiest times of her life.
"The main room was very pretty. It was wainscoted, with a soft, beautiful pine floor. The house had no bathroom, no electricity. We bought it for $15,000, and it was a dream for us. That's where I really learned how to do everything: electricity, plumbing, gardening, painting, spackling. I tried to build cabinet work in the kitchen and found out I am not a very good carpenter. I'm much better at plumbing."
Click here to read a journal entry where she reflects on fond Christmas memories.
Also located on Clark Wright Road, is Glendale Falls. Previously the site of 18th-century's Glendale Farm, Revolutionary War veteran Captain Nathaniel Wright, settled on its 400-acres and began farming in 1799. It would remain in the Wright family for over a century.
Clark Brainard Wright, it's last "wrightful" owner, would operate the farm from 1842 and into the 1920's. It was under his guidance that the farm became well-known for it's herd of shorthorn steers.
Most locals have heard of or attended the Middlefield Fair that began in 1855 and still runs over 3 days in August over 165 years later. It was here that this Durham cattle breed won top marks.
Clark Brainard Wright's "Glendale Duke" was a magnificent specimen that would win top prizes at the Annual Cattle Show of the Highland Agricultural Society (later shortened to the Middlefield Fair). Middlefield was recognized by the Massachusetts Agricultural College (now Umass Amherst) as a leading breeding area:
"The show of oxen and steers was the best I have ever seen at a county show, not for the number and perfection of training, but for the size and early maturity; almost every yoke especially of steers, was remarkable."
The cow fair was so legendary that a song was written about it. A lively two-step and male quartet was written by Philip Mack Smith in 1912. It was played at the fair and captures the original essence of the Middlefield Fair as the local folks in attendance must have felt.
The farm and falls were purchased by farmer and conservationist Richard Waite. Nicknamed "Waite's Falls" during his time there, ,he ,allowed public swimming at the falls, until lewd lawbreakers ruined a good thing. Waite sold the falls and surrounding 60 acres shortly thereafter to the
What We Dug : ,Waterfalls are generally a hit with kids (and grown-ups) and Glendale does not disappoint. This is one of the highest, longest, and most powerful waterfalls in the state of Massachusetts, plunging more than 150 feet. Part of the Westfield River, it's a rare naturally occurring Class III whitewater run. (For a bit of reference, there are a total of 5 classes in rafting).
At the top of the falls there are some wide, level spaces where you can get a good look at the water hurtling downhill. You can stand at the edge and imagine yourself on a raft with ,four foot ,w,aves shooting up ,,on all sides while the boat careens down the narrow passages.
A short trail leads to the bottom of the falls. The various stairs cut into the side of the trail provide additional tactile interest (i.e. lots of climbing) but please be cautious! There are steep areas that can make for tricky stepping.
It's always nice to have a "final destination" when you're out with kids. Having an endgame gives them a mental checkpoint and can be a source of encouragement when spirits start to flag. The bottom of the waterfall is a quick trip from the top but the payoff is spectacular. We spent some time taking it all in before trekking back up the way we came. We finished our afternoon with a few lively games of "Pooh Sticks."
What We Could Do Without :
This certainly can be a busy destination. Given that there is only one trail up and down the falls it makes "social distancing" or simply enjoying the area on your own next to impossible. If you're looking for time alone in the woods, this is not the place. Also, if you are bringing along a spirited toddler, be aware that the trail makes it's way down the side of the cascade. Not so close that there's fear of toppling in, but for us it certainly was somewhere we had to keep eyes on our kids at all times, not a place to let them run free to roam.
Keep Your Eyes Peeled For : ,Remnants of an 18th-century grist mill on the north side of the waterfall, Hemlock, Birch, Beech, Maple, Hornbeam, Witch Hazel, Shadbush, Mountain Laurel, Painted Trillium, Hobblebush, Warblers
Must Know Before You Go's : ,No facilities. Seasonal hunting is allowed. A Trustees permit is required. Mountain biking is not allowed. Dogs must be kept on leash at all times.
When enjoying these properties during the Health Crisis, The Trustees asks that visitors follow social distancing guidelines for the health and safety of all, and to help keep properties open in these challenging times:
Limit visits to open Trustees properties in your respective town or neighborhood;
Stay at least six feet from other visitors, including stepping aside on the trail to let others pass;
Please keep dogs leashed and away from other visitors at all times;
If a parking area is full, please come back at a less busy time.
Directions : From Pittsfield: Follow Rt. 8 South approx. 5 mi. Turn left onto Rt. 143 East. Follow for 8.1 mi. Turn right onto River Rd. (becomes East River Rd.) and follow for 5.6 mi. Turn right onto Clark Wright Rd. immediately after bridge and proceed 0.4 mi. to entrance and parking (7 cars) on right. Clark Wright Road Middlefield, MA  01243
GPS 42.349, -72.969
Website : www.thetrustees.org/glendalefalls
Resources :
THE MIDDLEFIELD FAIR: A Case Study of the Agricultural Fair in New England (Nineteenth Century)
https://marthamoments.blogspot.com/2015/12/25th-anniversary-countdown-to-christmas_18.html
Scroll through for more pictures of our Glendale Falls adventure!