Where We Went : Diane's Trail – Monterey, MA
When We Went : First of March
Difficulty (Boots 1 – 10) : 1.5 Boots
Trail Length : 1.5 mile loop trail
How Long it Took Us : 1.5 Hours
Overview :
In 1913, social reformers Agnes and William Gould, moved to Monterey and founded Gould Farm. Gould Farm was the first residential therapeutic community that focused on helping adults with mental illness move towards health and recovery, through rural community living and meaningful work.
In a 1921 New York Times article, William Gould said, "Too often had the mistake been made of taking people out to the country and leaving them there in the hope that just the change of environment would work a miraculous cure. What people needed, especially people who were unhappy and depressed, was to have the country interpreted to them by showing them where they fitted into the scheme of things."
The Gould's were dedicated to this idea of helping people find their place in the world. Their mission was to assist others in regaining their sense of belonging and discovering their purpose. Tragically, William Gould would lose his life in service to his community, dying of a heart attack in 1925 (age 57) while fighting a fire that broke out on the farm. Agnes would carry on the torch.
This message was important to another influential figure during that time. If you're familiar with the Appalachian Trail, you may have heard the name Benton Mackaye. How did the paths of the Monterey Goulds cross with ,wilderness contemporary and ,father of the A.T. Mackaye? MacKaye's sister Hazel, was a guest at the farm in 1927 after suffering a nervous breakdown. She would stay on into the 1940s and during her time there, Benton was a frequent visitor. On walks with his sister, he came to appreciate the healing nature of the Farm's forest and natural setting.
After Will's untimely passing, Mackaye would assist Agnes Gould on the management of the Farm's forestland. MacKaye emphasized the forest's value to the Gould mission,
"For purposes of psychological rehabilitation, the forest influence is uppermost. It is the environment of calm as against that of confusion. To obtain this fully on any given acreage of woodland requires keeping the forest canopy intact and letting the best trees grow to their climax in old age – I should think that an interesting forest program could be developed and made a valuable asset."
MacKaye called their unique therapeutic approach "forest mindedness," and said, "Gould Farm is no mere 'charity'; it is a potent social force.,"
When we revisit McKaye's 1921 proposal for the Appalachian Trail, its similarities with the Gould Farm philosophy are striking.
MacKaye's proposal stated that, "…oxygen in the mountain air…is a natural (and national) resource that radiates to the heavens its enormous health-giving powers…Here is a resource that could save thousands of lives." He believed that anyone suffering from what he called, "the problem of living," could not be cured solely by treatment but through immersion in the natural world. Speaking of those suffering, "They need acres not medicine. Thousands of acres of this mountain land should be devoted to them with whole communities planned and equipped for their cure." Visiting Gould Farm in 1927, MacKaye must have seen this full manifestation of his dream for the A.T. – a community that revolved around reconnecting with nature, communing with others and finding one's purpose of mind, body and soul.
"Diane's Trail," is named in memory of Diane Rausch, late wife of Gould Farm's longtime Forest Director Bob Rausch. Mainly a wetland trail, this unique habitat is open to the public. If MacKaye & the Gould's walked it today, they would surely see that their beliefs live on amongst the whispering pines. It is truly an environment of calm against confusion.
When you visit, take with you MacKaye's intentions for the A.T. :
"The ultimate purpose? There are three things: 1) to walk 2) to see 3) to see what you see."
What We Dug : This hike happened to fall on my 33 birthday and I couldn't have asked for a better gift. The day was chilly but the sun was shining brightly. As we walked it was easy to see why this trail is so special. A wooden footbridge runs adjacent to Konkapot River, still asleep under a thin layer of ice. ,A forest, composed of white pine, red-oak, and northern hardwoods, covers 500 acres of the property, the last portion of Diane's Trail meanders alongside Rawson Brook before returning to the trailhead. The
What We Could Do Without : I had read about the interpretative trail guide and was looking forward to following along but unfortunately there weren't any guides at the trailhead. We still made a game out of spotting each numbered post on the trail, but it would have been great to learn more about the surrounding environment. Looking forward to returning!
Keep Your Eyes Peeled For : Note: This is a tremendous spot for bird-watching. Bird watchers have seen the following birds at Diane's Trail –
Must Know Before You Go's : Parking is across the street from the trailhead. After turning off of Curtis Road, you will see the trailhead on your left. Continue up Gould Road 50 feet for the parking area on your right. Cross an open field to arrive at the trailhead.
No trail facilities. Leashed dogs ok. No Fishing or Motorized Vehicles.
The Harvest Barn is currently closed due to the COVID-19 pandemic.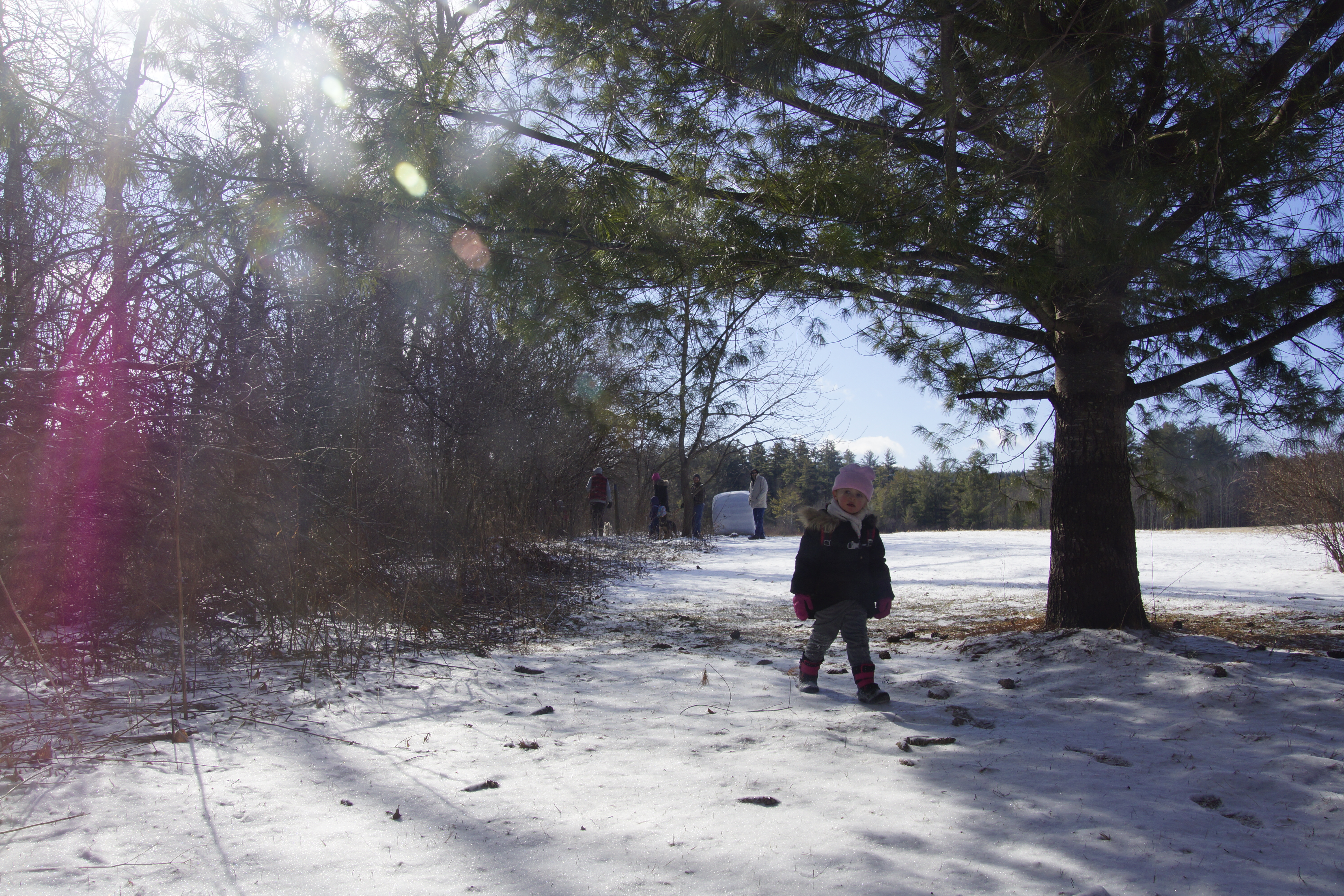 COVID-19 Hiking Best Practices
Check access before you go, many areas are closed during this time.
If you or anyone in your group is feeling sick, STAY HOME.
If parking areas are crowded, choose a different space to explore.
Give a wide berth to other hikers and allow for at least 6-feet for passing.
Practice Carry-In/Carry-Out & Leave No Trace rules. Trash receptacles should not be used.
Bathroom and office facilities will be closed to the public.
Directions : From Route US-7 S, turn left on Monument Valley Rd, Turn left onto MA-183 S/MA-23 E, continue straight onto MA-23, Turn right onto River Rd, Turn left onto Gould Rd, Trailhead will be on the left, Parking is on the right side, 50 feet up the road.
Website :
Resources :
One Hundred Years of Service Through Community: A Gould Farm Reader edited by Steven K. Smith, Terry Beitzel
Backpacker Magazine's Guide to the Appalachian Trail
http://www.forestguild.info/MF_Gould
https://theberkshireedge.com/forest-mindfulness-and-liquid-gold-at-gould-farm-its-sugaring-season/
https://utd-ir.tdl.org/bitstream/handle/10735.1/5394/ETD-5608-7474.04.pdf?sequence=5
Scroll through for more pictures of our Diane's Trail adventure!